Have you got removable partial – total denture? Does it hold poorly and forces you to forget about any hard food and to eat soups and soft food only? Are you tired of the taste and the feeling of adhesive cream on you denture in your mouth? You do not want to or you can´t use common implants?
Various adhesive creams holds the denture for some time, however you have no assurance that it doesn´t fall out at inappropriate moment.
Do you want to gain self-confidence and not to limit your social and work life?
We have a solution for you! Mini-implants will help you!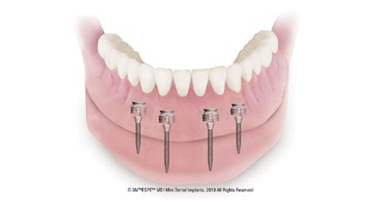 Dental mini-implants are implanting screws of a small diameter (1,8 mm), made out of titanium. They have much smaller diameter than common implants and it is much easier and faster to place them. A small hole is drilled and mini-implant is "screwed" into the bone. Process is done under local anaesthesia only. Small balls are then visible in your mouth, where the mini-implants are. You denture, which is now equipped with fitting sockets, is then "clicked" on the balls.
Mini-implants helps:
to support temporarily or long-term fixture and stabilization of your dentures
to support the functionality and avoid failure of temporary or fixed bridge as one-piece set
Basic benefits of mini-implants:
Your existing denture can be used
Minimum of contraindications
Absolutely painless placement without surgery
Fast healing process and a possibility of immediate use. You can start to use your denture the very next day
Mini-implants are less expensive for the patient
The placement and aplication of mini-implants is cost and time friendly, in comparison with normal implants. Your dentist decides the exact placement of mini-implants based on entry examination and X-ray image. There is no surgery needed while placing the crews into the jawbone, only local anaesthesia. 4-6 mini-implants are usually enough to ensure proper support of the denture.
Mini-implants are successfully used for more than 20 years in USA and in Europe. This method is more and more popular and is required by patients in more than 60 countries across the world.
We use 3M ESPE mini-implants, made in USA.
Are you interested in mini-implants? Do you need more information? Write us …