Dentim s.r.o.
Our dental office, founded in 2005, is a dental workplace with three modern equipped offices and a laboratory near the centre of Prague. Our goal is to provide a high quality dental care to patients of all age categories. We regularly take part at domestic and foreign training courses and exhibitions. We transfer the acquired knowledge directly to our work and therefore we always work with the most progressive materials and technologies. We change worn-out dental stereotypes and we want to belong among the best at our field.
The objective of modern stomatology is a perfect reconstruction of dental tissues, both functional and aesthetic. We use modern materials to meet these requirements in our practice.
We start our care with thorough entry examination, which includes digital X-rays to evaluate the condition of your teeth and to uncover any possible problems. Dental treatment is generally conceived of as one of the least pleasant and popular among people. Our goal is to provide comfortable and friendly environment to make your visit of the dentist easy, enjoyable and with no stress.
Complex dental care of children and adults
Pleasant and relaxing surrounding
Short order terms
Modern equipment and technology
Long tradition
Sensitive approach to patient
Emphasis on prevention and thorough entry examination
Gift vouchers and bonus cards
Partnership with health insurance companies
To secure and keep sanitary and hygienic standards is our priority. What perhaps sometimes seems to you as a downtime (time between leaving and coming patient), is in fact our meticulous approach to sanitary and hygiene standards before the next patient enters our office. Performance of dental ambulance works exactly in the same mode as the service of an operation theatre from the hygiene point of view – in both cases there are often invasive procedures in open bleeding wounds –we have to be very demanding to ourselves to ensure high hygienic standards for a next coming patient.
Do not pay for entry and preventive examinations.
We cooperate with following insurance companies:
111 – Všeobecná zdravotní pojišťovna

207 – Oborová zdravotní pojišťovna
211 – Zdravotní pojišťovna ministerstva vnitra
201 – Vojenská zdravotní pojišťovna
205 – Česká průmyslová zdravotní pojišťovna
Dentist
Attestation of 1st degree
Member of Czech Dental Chamber (ČSK)
ČSK Expertise Certificate
Member of Czech Implantology Society
Member of Czech Academy of Dental Esthetics
Graduate of Curriculum ČADE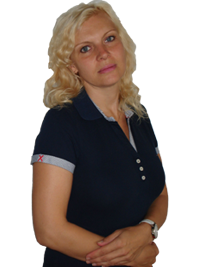 Do not let the treatment happen without magnifying eyeglasses!
The dentist´s work is significantly more accurate, precise and thus better.
We work with magnifying eyeglasses.
Magnification = Accuracy = Quality